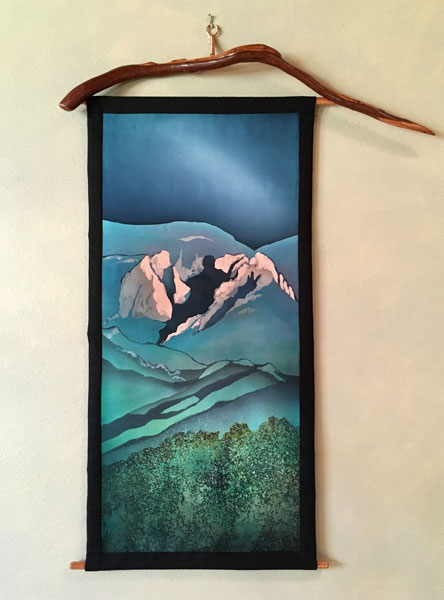 Take everything that's bright and beautiful in you
and introduce it to the shadow side of yourself.
Let your altruism meet your egotism,
let your generosity meet your greed,
let your joy meet your grief…
But when you are able to say,
"I am all of the above, my shadow as well as my light,"
the shadow's power is put in service of the good.
— Parker Palmer
Commencement address, Naropa University, 2015

Rozome on Kimono Silk, bound with silk noil.
Juniper hanger handmade by the artist.
Mounted 37 x 26"
$500
Dark Angel
By Karen and Bunny Bowen
March, 2015
It took forty years of mountain-gazing before I saw it:
Late afternoons, close to the equinoxes
The dark figure hovers at the heart of the Sandias
Touching the deep canyons with disquiet
Domination shading old granite faces
A name could make it safer, compartmentalize it into something manageable
Ease the vague sense of threat
Shall I name it fear, the malevolence sweeping these hills
Raiders come to plunder the herds, the harvest
Brokers to lay down lines in the earth
Homes springing from arroyos and hills
And everyone with their own watchtower
Fear is catching, a virus hiding out in the very soil of a place
Under the rocks — in the darkness of the heart.
How are we to live?
Don't pick up the rock
Leave the fear there, in the dark
It will not lack company

March 2017
I would hold that shadow, let it meet its kin in my heart
Sometimes blue, an angel
Why hover over the foothills?
Is it a protector?
Does it alert us to our shadow selves?
We can choose to live in compassion and love, rather than fear.